Lash Extension

Lash extension is an efficient method for making the look expressive and deep and for visual correction of the eye shape.
Lash Extension Classic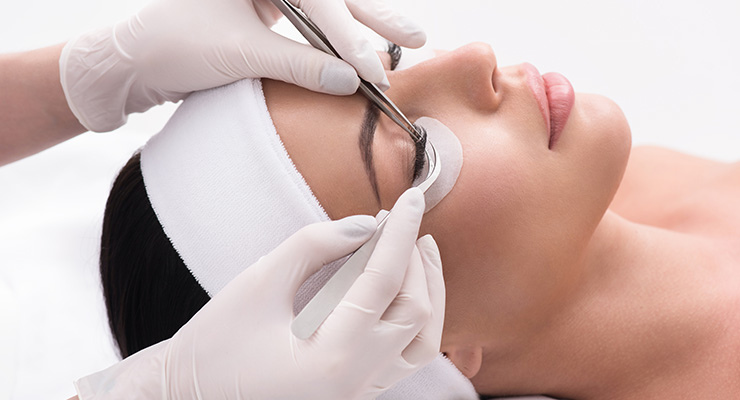 The essence of the classical technique is to resemble and complement the natural image. The growth and thickness of natural lashes is replicated. This method perfectly suits the admirers of natural make-up. One of the most popular ways of lash extension.
The eyes are emphasized, they are expressive and looked-after
Lash extension replicates the growth of natural eyelashes and the number of artificial lashes coincides with the number of natural ones
It does not make the natural eyelashes heavy and does not traumatise them
Lash extension can have various effects — to extend your own lashes, which are thick by nature, to correct the eye shape and "open" the look visually
The eyelashes appear thicker and longer
No need to use mascara
The time spent on the application of morning make-up is considerably reduced
Care for the eyelashes is simple
Lash Extension 2D
The eyelashes become thicker and efficient. Two artificial lashes are fixed to one natural eyelash to add additional volume:
The eyelashes look thick and long;
No need to use mascara;
The time spent on the application of morning make-up is considerably reduced;
Care for the eyelashes is simple;
The look becomes expressive and charming.
You will enjoy having ideal eyelashes for up to 5 weeks!
Quality
Experienced specialists, modern technologies and Premium class materials
Duration of the procedure 1.5–2 hours
Clients return to us again and again.
The highest qualification professionals work for our centre and you will always be satisfied with the achieved result.
Cosy atmosphere
You feel completely relaxed and forget the daily trouble for a while at the sounds of pleasant music in the background.
We do not save on our clients!
Our centre only uses Premium class materials.
Prices
Eyelash extension Classic

50.00 €

Eyelash extension 2D, 3D

55.00 €
You are welcome in our centre!
Book your visit today!
Make an appointment